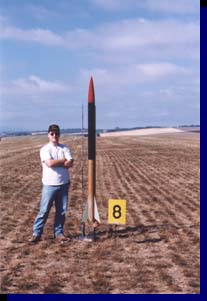 The Triad is my clustering fix. It is a custom built 4" rocket with 3 38mm motor mounts. Its built for speed, and solid as a rock - as you can see in the construction section. I plan to eventually fly it with the largest 38mm motors I can get my hands on.

Birth of the Triad! If you have any curiosity about my building techniques, check out the Triad's construction.

10/1/98
I've had 2 marginally successful launches with the Triad now. In August, I tried a 3 x H-180 flight, but only got one motor lit. Last weekend, September 25, I attempted to light 3 I-357's, but only got 2. Still a great launch! Plans are to try again with this vicious motor combo at Millican on October 25th.

3/7/99
With the help of Stu Barrett's advice, I finally get all 3 motors to light under the Triad. See launch link below for pics.

4/17/99
Another great cluster flight, this time on 3 I357's. Perfect boost and recovery. Next up, 3 I284's!

3/1/00
Launch on 3 H180's, main chute fails to deploy. Sheared fin.