Back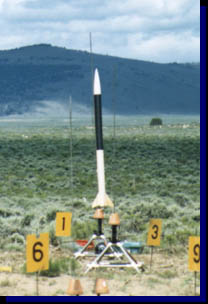 This is my second kit from USRockets, and I've been really happy with it. Good, strong materials, 54mm mount, very stable design.

The Megaroc has a 4" diameter cardboard airframe and stands about 8' tall. The airframe and fins are reinforced with 2 layers of 4oz fiberglass, making it a very tough rocket. Its size makes it great for flying on motors as small as an H, up to a K and possibly L. This picture was taken at its first flight in Millican, Oregon, the Fall of 1997, before the paint job was complete.

Update - 07/17/01
The Megaroc was retired after a shred in '99. See below...

Millican, OR
Fall, 1997
Flight on a 480NS I-211 at the spacious Behee launch site in Millican, Oregon.
Sheridan, OR
September, 1998
Monster of a launch on a Kosdon I-440. Great Motor!
Monroe, WA
March, 1999
Another launch on a Kosdon I-440. Bad recovery...
Sheridan, OR
April, 1999
The Megaroc is repaired, and flys on a I435. Great flight!
Moses Lake, WA
April, 1999
Flight on a Kosdon K700!
Millican, OR
August, 1999
Two perfect flights on experimental motors.
Black Rock, NV
September, 1999
The megaroc's final flight on an L1850 Green Gorilla.
Back

Rocketry | Experimental | Webhosting | Email | Links | Home
Copyright 1998-2014 Greg Deputy - All Rights Reserved