Space Shuttle SRB test burn and NSL - 2001
Back
In May of 2001, I had the opportunity to travel to Utah for a Space Shuttle SRB test burn at Thiokol's facilities and the National Sport Launch later that week. It was a fun trip filled with rocket experiences that I wont soon forget!
Click on any picture for a larger view
Thiokol
We got a late start, and it was a race against time to arrive on time. The test was scheduled for 1pm Mountain Time on Thursday. We left Sumner, WA Wednesday night at 6pm. I was worried the entire time that we werent going to make it in time. We drove until 4am (mountain time), stopped in Ontario, Oregon, got up at 7 and continued driving until we arrived at Thiokol (about 20 miles west of Brigham City off I-84, approx 800 miles from Sumner) with about 10 minutes to spare. Awfully close!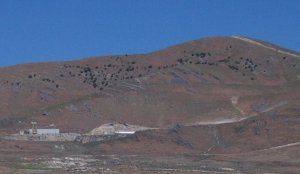 The SRB was situated in a niche in the hillside, fore end of the motor visible.

The SRB was situated in a niche in a hillside about 1 mile from the road, now crowded with spectators. The nozzle end of the motor was not visible, just the fore half of the motor. We found a spot to park and got out to wait for the firing. At 1pm a siren sounded and a small puff of smoke was seen around the motor. I'm not sure if that was an ignitor firing, or what. About 5 seconds later a huge plume of orange flame and white smoke erupted from the hillside. Another 2-3 seconds after that the sound hit. Wow. A gutteral rumbling that you felt in your chest. Just plain loud. Felt almost more than heard. The sound was just like what you hear if you've ever seen a shuttle launch, the rumble-crack-crack-crack sound of the booster. The burn continued for about 2 minutes, lots of flame, smoke, and noise. Then it abruptly stopped.

The entire hillside was engulfed in flames, and continued to smoke and burn for quite some time. The hillside where the blast from the motor was directed appeared to be burned entirely clean. Nothing but sand, no plants, no nothing.
| | |
| --- | --- |
| | |
| Upon ignition, it suddenly didnt seem so far away. | Burn time was a long 2 minutes. |
| | |
| --- | --- |
| | |
| A huge amount of smoke and dust was thrown up by the test. | Afterwards, the hillside was scorched. Note the range fires. |
After the test we headed down the road to the Thiokol campus, where there is an area set up with all kinds of static motors and information. Everything from a full size SRB motor, sidewinder motor, minuteman, FFAR, tons of test motors, all kinds of cool stuff.
| | |
| --- | --- |
| | |
| A full scale mock-up of the SRB gives perpective. | Quite a collection of rockets. |
| | |
| --- | --- |
| | |
| Minuteman first stage motor. Nice star grain (inert). | Interesting view of nozzles and gimbaling setup. |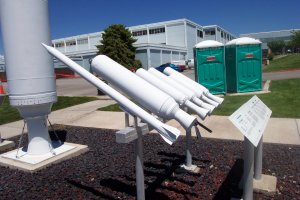 An assortment of small test motors and missles, including an FFAR.
After the test, we headed to a friends house and crashed for a few days, relaxing and visiting. Because of time constraints it was determined I would only be able to attend the first half of the day at the National Sport Launch on Saturday. Wanting to be fully prepared I spent most of friday night with my buddy, Clay Clawson, prepping our rockets, building motors, checking everything.
NSL
Saturday morning was clear and warm. We got up around 7 and headed out to the pony express test range, Uroc's launch site. A great location for flying rockets, miles of flat space with low scrub/grass and occasional sage. I was surprised they only had a 10k AGL waiver, for recovery purposes the site could support much more.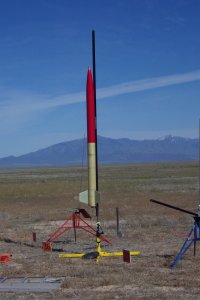 My Level 3 bird ready for liftoff from the Pony Express Test Range.

We arrived at about 8, got registered, and pulled out the rockets. Clay was ready with his min diameter 54mm project on a J350. It rocketed off the pad and had a perfect recovery, the dual deployment setup working flawlessly. My first flight was my level 3 bird, as yet unnamed, on a K700 for a shake-down flight. The rocket is 6" diameter G-10 fiberglass with fibgerglass fins and nose, total weight with motor about 35 lbs. Once the rocket was on the rail, igniter in, altimeters armed I retreated to the flight line. At this point the digital camera I had died, so I didnt get any liftoff pictures. Argh! The launch was beutiful. The K700 took a second to come up to pressure, then WHAM! The motor fought hard as the rocket lifted off the rail and rose to apogee. The drouge deployed, and then immediately follwing came the main. DOH! Guess I need a few more shear pins in the main chute compartment. Thats what shake-down flights are for, right? The K700 only put it to about 2500 feet so it wasnt far away, even with the R18 main out at apogee. Good flight.

I still had time for one more flight. I got Carbon Black prepped with a J415, and Clay got his U.S. Rockets Megaroc ready to go on a K185 for its 15th (!) flight. But then murphy bit both of us in the butt.

I got Carbon Black on the rail, armed the altimeter and waited for the beeps. Nothing. Hmm... Tested OK last night. Well, I pulled it off the pad and headed back to the truck. I pulled the thing apart and looked at the Olsen M2. It was hung up in the firmware boot sequence. I powered it off, then back on again, and it came up fine. I was a little worried. I shut it down and back on again, and it started throwing strange characters on the LCD screen during boot-up. More worried. I shut it down and back on again, and this time it fired the main deployment charge! OK, enough of that, packed it up and sat back to watch Clay's flight.

Clay got his bird on the 1/2 rod and armed his altimeter. It beeped happily away, then stopped. Beeped again, then stopped. The wires he twisted together to arm the alimiter appeared to have a break somewhere, so he pulled it off the rod to take it back and check it out. In the process the bottom launch lug got popped off! Blarg!!

Back at the truck, Clay got his altimeter issues fixed, and quickly installed some rail guides. Back out to the pad, and it was ready to go. The LCO counted down and hit the button. The K185 smoked for a moment, then the Megaroc took for the sky! The flight was majestic, slow and long. At apogee, but the drouge and main chutes deployed. Hmm... Time to walk. Well, drive actually. Another nice thing about the launch site is you can drive out to recover your bird. After overshooting the actual landing site of the rocket and stumbling across it on the way back in, we Clay broke down the rocket and checked the altimeter. 6500 feet. Good flight

All in all it was a great trip. If you ever have the chance to make it out to Thiokol for a static burn of the Shuttle SRB, do it! The same goes for flying with UROC, great people, great site, great fun.






Back

Rocketry | Experimental | Webhosting | Email | Links | Home
Copyright 1998-2014 Greg Deputy - All Rights Reserved