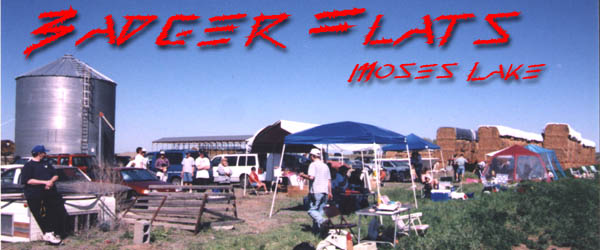 April, 1999
Back
Moses Lake had a great launch at a great location. Unfortunately, the FAA got stupid, and we have been unable to get a waiver since. Our tax dollars at work... For more pics from this launch, including a couple of L flights, check out Northwest Rocketry's home page.
The raptor had 2 flights at Badger Flats, both on H's. Both flights were FAST, spectacular, and successful. To fast to catch on film, unfortunately. I plan on adding some electronics so I can see what kind of altitude its really getting.
I flew the Megaroc on its biggest motor yet. A Kosdon 1400NS K700.
The launch was spectacular! It really moved, impressive flame.
The electronics worked perfectly, main chute deployed at apogee, main at 500 feet. The Megaroc was recovered at the edge of the field.
Great flight, great recovery, what else could you ask for. Unfortunately, I missed out on the rest of the day, because I had to leave early. Despite that, this was one of my favorite launches in a long time.

Is that a UFO over my right shoulder?
Back

Rocketry | Experimental | Webhosting | Email | Links | Home
Copyright 1998-2014 Greg Deputy - All Rights Reserved